Men's Boxer Briefs
Upgrade your underwear collection with our life-changing boxer briefs - designed for ultimate comfort, breathability, and support, no matter what your day brings.
The Most Comfortable Boxers You Will Own.
Happy Guys Have Chafe Free Thighs
Our specially designed inner thigh panel, crafted from rigorously tested athletic fabrics, is engineered to combat chafing by minimizing friction and effectively wicking moisture away. This ensures unparalleled comfort and peak performance for an exceptional wearing experience.

Not to mention the 6" inseam comfortably stays in place and doesn't ride up.
Stop Chafing Now
Stop Adjusting Your Junk
Our innovative, and supportive Swing Pouch is designed to cradle your beans, keeping them from sticking to your legs. This groundbreaking feature ensures optimal support and stability, allowing you to move with ease, confidence, and comfort throughout the day.


No mid-day adjustments necessary.

Live The Adjustment Free Life
Impossibly Soft
Crafted from premium Modal fabric, our boxers offer unparalleled softness, exceptional moisture-wicking capabilities, and outstanding durability, making them perfect for everyday wear.
Give Ultimate Comfort A Try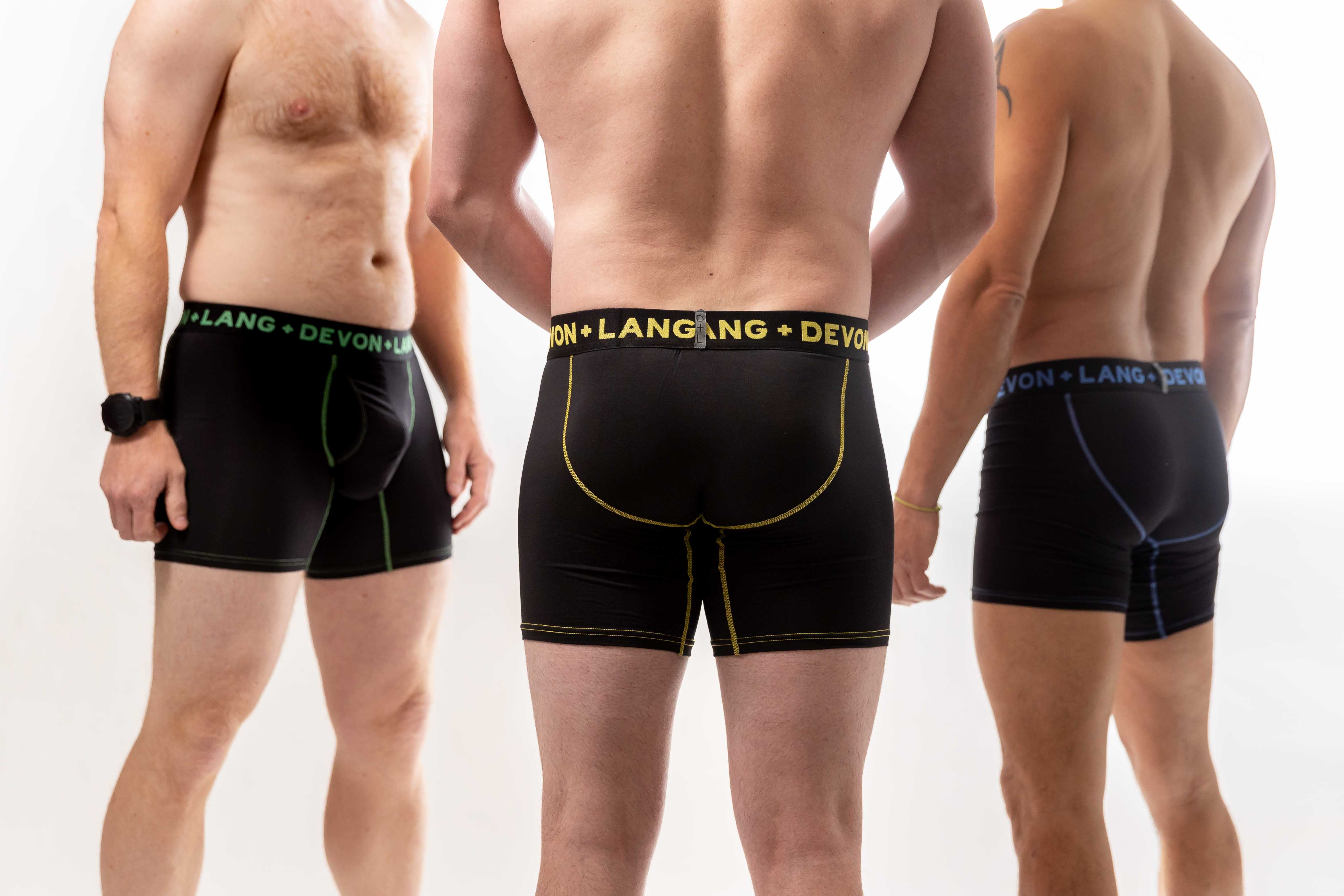 Venture Boxers
Comfort meet durability
The Venture Boxer Brief delivers ultimate comfort and performance with its silky smooth modal fabric, supportive pouch design, and durable inner-thigh panel. Ideal for lounging or active use, this boxer brief offers all-day support and exceptional wearability.
View Collection
Your Boys Deserve The Best
Where else can you get a comfortable, supportive, soft, matching, eco-friendly boxer that gives back?
Only at Devon + Lang 😉

|   | Devon + Lang | SAXX | MeUndies | Hanes |
| --- | --- | --- | --- | --- |
| Durable Inner Thigh Panel | ✅ | 𝗫 | 𝗫 | 𝗫 |
| Ultra-Soft Waistband | ✅ | 𝗫 | 𝗫 | 𝗫 |
| Pouch Boxer | ✅ | ✓ | 𝗫 | 𝗫 |
| Matching His and Hers Patterns | ✅ | 𝗫 | ✓ | 𝗫 |
| Made from Eco-Friendly Modal | ✅ | ✓ | ✓ | 𝗫 |
| Donates a Pair with Every Purchase | ✅ | 𝗫 | 𝗫 | 𝗫 |
*The above information is published in goodn faith and for general information purposes only.
Enjoy a stress-free shopping experience with our 30-day try-on guarantee; if you don't love your first pair, it's on us.
We Donate Underwear With Every Purchase Made
Shop with purpose: Every purchase supports our mission to donate underwear to those in need. Join us in our goal to donate 500,000 pairs in the next 10 years, providing the basic human necessity of new, clean underwear to vulnerable communities across North America.
Learn more
Our customers love Devon + Lang
Why Not Match With Your Other Half